(Bestmix Joint Stock Company & Quang Tri Architects Association) WORKSHOP - APPLICATION OF CONSTRUCTION ADDITIVES TO WORKS
---
The seminar with the topic "Application of construction additives in construction" organized by Bestmix in collaboration with Quang Tri Architects Association took place on August 15, 2022.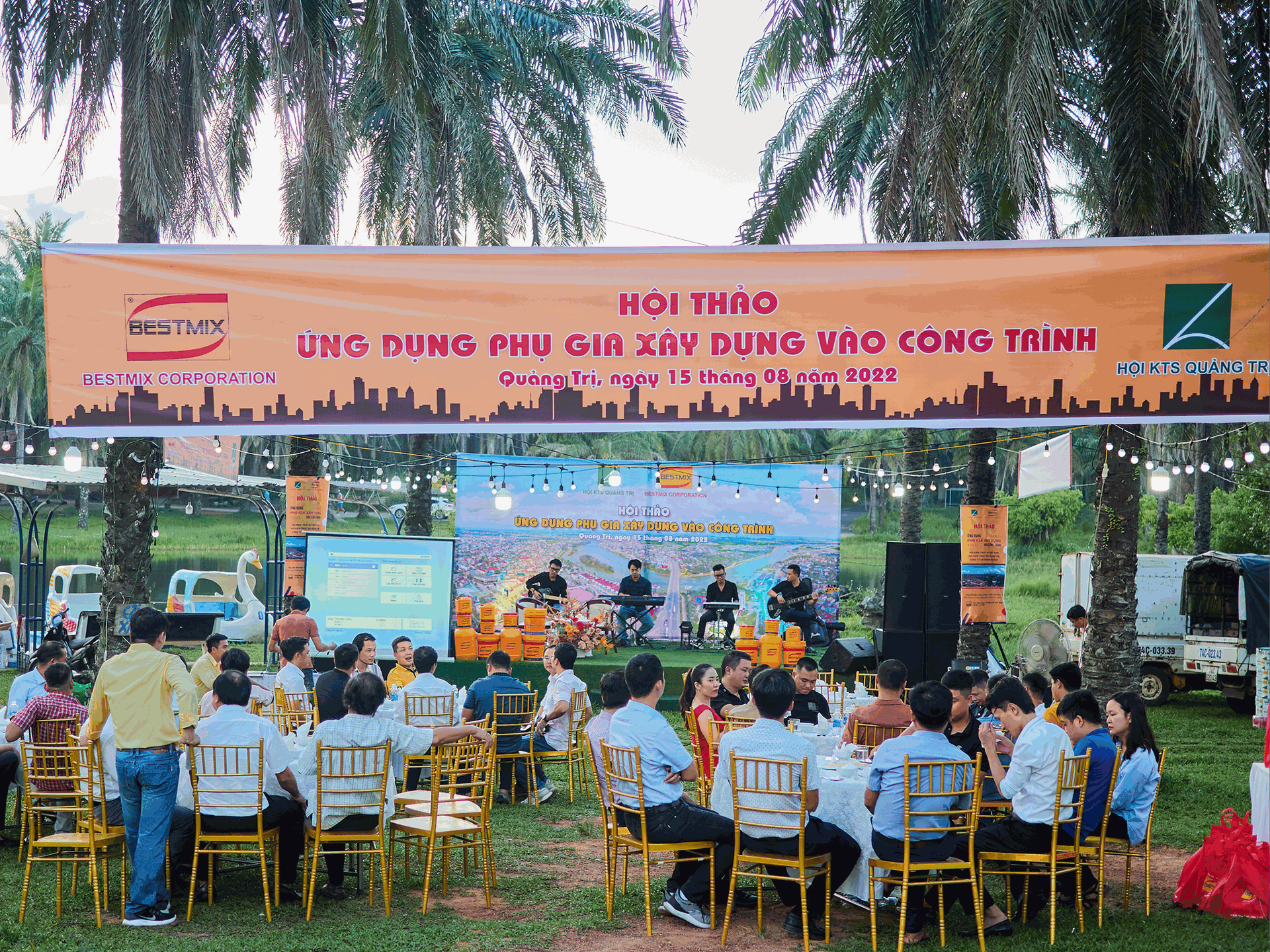 Attending the seminar were Mr. Dang Van Thach - Chairman of the Board of Directors of Bestmix, Mr. Dang Hoang Trieu - Deputy General Director of Sales for the South region and design and architect consulting companies in Quang Tri. The seminar was held in a cool garden courtyard like an exchange and meeting of "workmates" with each other.
With the goal of bringing more solutions to customers, raising awareness about the use of construction additives in construction, the seminar is also a bridge to help Bestmix and Quang Tri architects connect. closer together by signing a memorandum of understanding.
The content of the seminar focused on answering the problems and questions of the Association of Architects often encountered in the construction process, the trend of application of construction additive products in the future, the applicability of the product. Bestmix products as well as the difference of Bestmix compared to other brands in the same industry.
With the advantage of being a Vietnamese brand with deep understanding of the construction market, Vietnamese soil, autonomy in technology, independence in production lines and a seasoned research team, Bestmix is ​​confident to brings satisfaction and outstanding quality to the projects and works of the Association of Architects in the future.
---------------------------

Over 23 years of establishment and development, Bestmix is ​​the leading brand in Vietnam in the field of additives and construction chemicals. With advantages in technology, production, distribution and construction capabilities, many of Bestmix's products have been trusted and selected at large projects throughout Vietnam. Bestmix's customer partners are known as: Bosch Vietnam, Thaco Truong Hai, Medisun, Nhat Nhat, Vina Acecook, Yuwa, Bachy Soletance, Hoa Binh, Central, An Phong, An Phu Gia....

With the motto "Building trust", Bestmix staff is always ready to advise and provide solutions suitable to each customer's needs and the characteristics of the projects.

Learn more about the company and its products at: Company Profile

For support, please contact hotline: +842838107997