BESTMIX PRODUCTS USED IN ELEVATION NORTHCOTE PROJECT BY TLC MODULAR
---
Bestmix is proud to be a provider of specialized construction solutions that meet New Zealand standards for more than 500 modules under the Elevation Northcote project manufactured by TLC Modular.

Photo: Project visualization by TLC Developments.
Elevation Northcote is a key project of the New Zealand government in the city of Auckland to address the rising housing needs of the local community and provide a source of high-quality apartments. With 180 homes and more than 500 modules that have commenced assembly (as of May 2023), the project is a leading example of the modern construction technology by using prefabricated modules. They are manufactured in Vietnam, custom-designed based on foreign designs and transported to the site by specialized ships and container trucks. This modular construction ensures the highest quality and saves construction time up to 40% compared to traditional builders.


Photo: TLC Modular specializes in off-site modular construction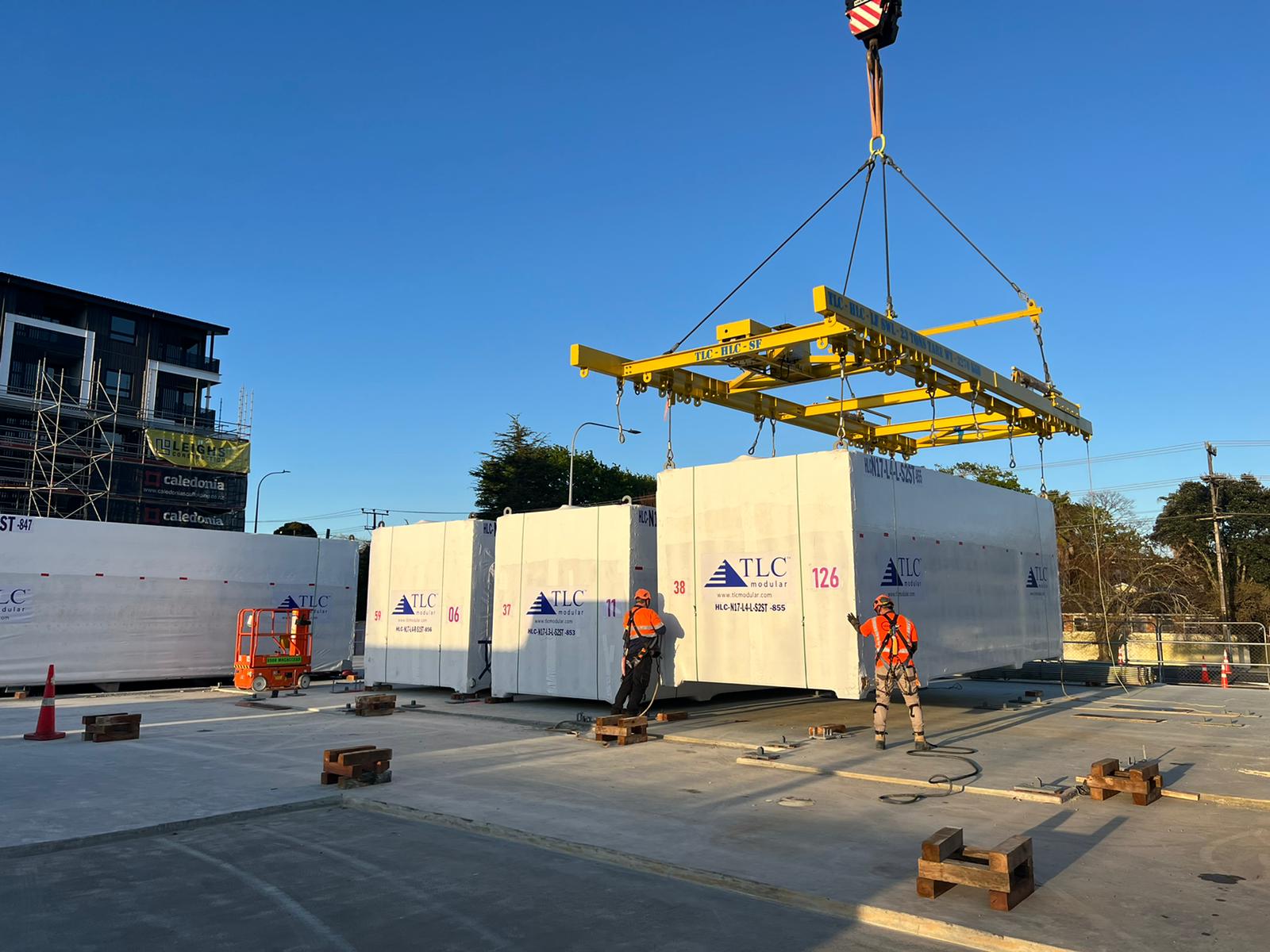 Photo: Module transportation to on-site
The project is undertaken by TLC Developments as a contractor and implemented by TLC Modular - a modular manufacturer giant established in 1995, in Vietnam, by Mr. Alistair Sawer, an Australian construction expert. In 2021, TLC Modular officially received investment from the world-famous Goldman Sachs thanks to TLC Modular expertise and the promising modular housing construction industry. With more than 300 employees working in three countries, TLC is present in different markets including Southeast Asia, Australia and New Zealand. The company currently has three factories located in Ba Ria - Vung Tau province to meet the increasing demand for module projects.
Photo: TLC Modular factory
This cooperation has taken place continuously and closely for more than a year with extensive coordination between Bestmix R&D, Engineering, Application team, and TLC Design and Construction experts for analyzing requirements, developing solutions, testing, and supporting at manufacturing sites to ensure the successful applications. Overcoming many other international players, Bestmix has successfully partnered with TLC to be an official supplier of construction chemicals for the project. Bestmix provided a series of specialized products including BestSeal AC408, BestSeal PU405, BestSeal 500Flex, and BestGrout CE675 following the specific requirements of TLC as well as from the Australian - New Zealand market. Noticeably, BestSeal AC408 which recently obtained the Singapore Green Label certification is an evidence of the safety and quality by international requirements.


The Elevation Northcote project marks a turning point in the partnership between TLC and Bestmix, and a step forward for Bestmix into the international customer segment. Bestmix is ​​also ready to catch the modular housing trend - a smart building trend that is forecast to thrive and possibly dramatically change the way the construction industry works. With advantages in technology and market expertise, Bestmix will continuously innovate its solutions and transform the brand as Vietnam and the region's leader in the construction chemical market.
Photo: Current stage (as of May 2023) of Elevation Northcote project